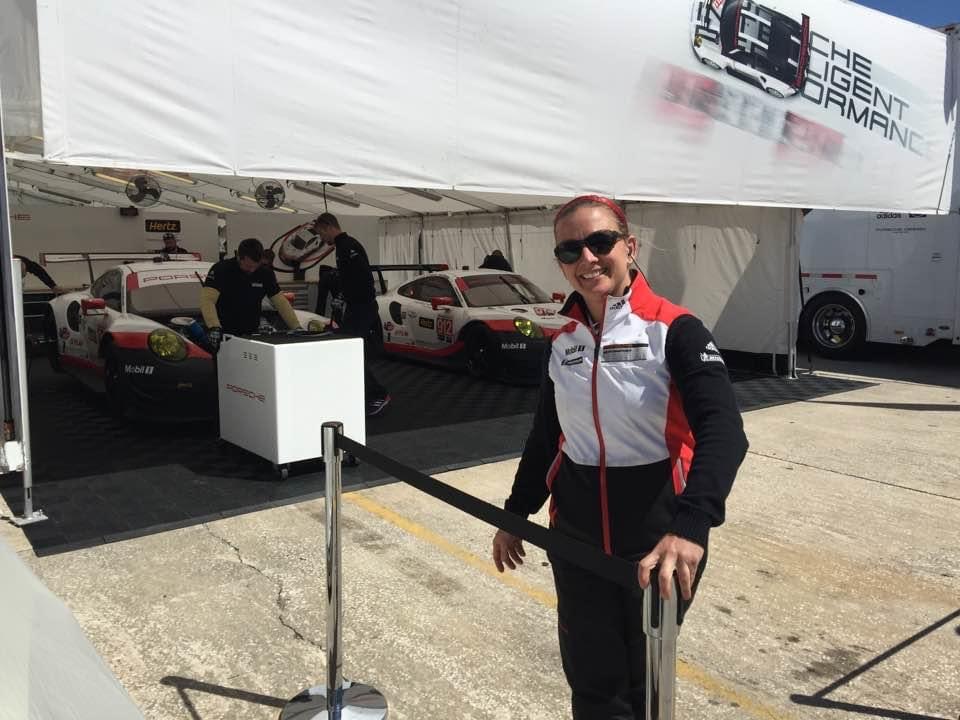 Michele,

Don Sup has heard about your travels and the good things you do.  You have travelled the world with sportscar racing, most lately with Team Porsche.  We'd love to learn more about you and your adventures!

1) Can you share a little about your background with us? 


I have lived a very blessed life, growing up with a great family and parents who really taught us to give back when we can, because we are lucky.  I went to the University of Southern California to be a dolphin trainer at Sea World but ended up working for 20 years in motorsports which allowed me to travel the world and meet some of the most amazing people.  With the experience of so much international travel and the miles accrued from work, I felt empowered to travel independently and when I turned 35 I wanted to do a trip to my 50th state Alaska and also wanted to do something that matter, so I did my first of 6 Global Village Habitat for Humanity builds there.

2) You travel to some cool places, but you also do some cool things to help out the locals.  Can you share some of your favorite experiences?  


Traveling as part of a global village trip, it is awesome that while most tourists just go explore the site, we explore the people and contribute to their well being, leaving each place better in addition to seeing site.  In Kenya, after we had spent two weeks outside of Bongoma, a city near the border of Uganda, we were in a market in Nairobi where the vendors try to get you to buy their trinkets.  I said, thank you but I am not looking to shop.  He said "then why are you in my country?" and I told him we had just been building two houses in Bungoma.  He stood up and solemnly replied, "I am from Bungoma, on behalf of my people, thank you for coming here to help." and he handed me a stone heart which I have kept with me to this day. 
In Chiang Mai Thailand, we had so much fun with our host.  He told us he taught Arabic dancing, so we asked him to show us some moves in the morning when we did warm up.  (Moving cement by buckets by hand for a foundation calls for a good warm up and stretching).  Turns out he meant "aerobics" which made us all laugh and was an even better warm up.  Reminding us that speaking two languages is hard, and everywhere I have gone, they speak at least two, it is humbling.
India, we did a build in Bangelore.  About 25 of us dug foundations for homes with pick axes, bowls and big crow bars.  One family was so incredibly excited about having a home that would be 7ft by 20ft for the four of them. And in every country, the locals who work are grit stronger even though they are lean, than any body builder I have known here.  They mix the concrete by hand and hoe.  And they cannot understand why people would come around the world to help them, but the truth is, our hearts get so fulfilled by doing something, creating something and forging a bond with the community, I feel like we get the better deal.  I love doing these because they bring out the parts of me I like the most, patience, hard work, giving, connection, and doing good.  And it sure gives you perspective when you come home. 
3)  What are some of your favorite things to do for fun when not traveling?

I love to fly on the trapeze and do aerial silks, it is such a creative and expansive endeavor to really push your body and brain.  I love to read and tend to read mostly nonfiction so that I keep learning more everyday.  Lately, I have been making facemasks to give away to my cousin's school to help out.  And cooking, this pandemic has allowed me to go through so many cookbooks and make delicious food.  And I love to connect with friends, family and my man.

4)  What are your top 3 "must haves" when traveling?

1. An open flexible mind and an eye for wonder, you never know when a plan may change and it works out even better.
2. A balanced itinerary for planned things to see the musts and open for spontaneous activities, because you meet people who recommend something that you had not even considered so you want time to do it.
3. Time - too often we rush our experiences, especially as Americans. To really immerse in a location give yourself two weeks.  I have been known to take trips that are 2 months long to explore and it does wonders for your mentality, experience and wonder.

5)  Do you have any plans for further travel and helping out the people/places you might visit?

I try to do a Habitat build every year or at least every other year.  With the pandemic, the plans are on hold. However I was consider a South American tour as I have only been to Brazil twice for work.  Perhaps Patagonia or Argentina.  I would also like to get back to Africa, Malawi after reading The boy who harnessed the wind, I definitely want to give back to that country.  Any time I have gone to a "3rd world" country, I am reminded that because they are still fulfilling their basic five needs of shelter, air, water, food and community, they have forged better bonds and reliance on each other and do not feel sorry for themselves like we do sometimes in "1st world" countries because we feel more alone sometimes.


Thank you Michele for all the good deeds you do while traveling.  A great example for all of us!  
Here is a link to Global Village: