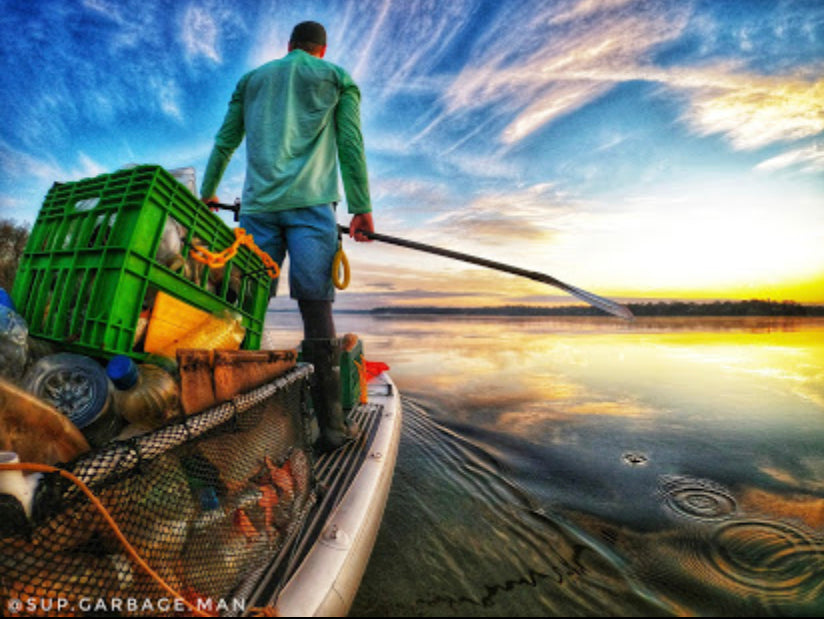 Don 

Sup World Paddler has been following your posts on Instagram for quite some time.  You post pics very often about your adventures in garbage picking on your paddleboard.
Q: Can you tell us a little bit about yourself?
A: My name is Joe and I'm just a dude with a paddle board...and yes, I also haul trash out of our waterways. I grew up in a small beach town in Florida and have always loved the sense of freedom of being on the water. By spending so much time at the beach, or boating on rivers and lakes, I gained an appreciation for nature at a young age. This appreciation eventually drew me to paddleboarding. It was something I could do from basically anywhere and didn't need anything but a board and a paddle to explore. In 2019, I discovered a passion for litter picking WHILE on my SUP. It is something that I can personally do that has a direct impact on our environment. So, I created SUP Garbage Man in May 2019 to bring together my interests of SUP and litter picking. It combines several aspects of who I am as a person and has become something I've decided to dedicate my time to (outside of my full time day job). I started by posting photos on social media of what I was finding and have since received overwhelming support from around the world. I hope my efforts raise awareness of the extent of the trash problem and maybe inspire a few other folks to pick up trash too. 

Q: What got you interested in paddleboarding? Do you remember your first time on a SUP?
A: I wasn't always interested in SUP as I always preferred the fast action of surfing. It wasn't until 2013 that I first tried paddleboarding. My wife and I were visiting the Florida Keys and the hotel we were staying at provided paddleboards and kayaks to the guests for no additional fees. So, I figured I'd give it a go. I was instantly hooked! Standing up on the calm waters of the lagoon just behind the hotel and looking down at all of the sea life in the clear water was out of this world.  It wasn't long after that free rental that I bought my first SUP.   
Q: Why are you interested in picking up garbage?
A: I "got interested" in litter picking back in childhood.  While walking our dogs, my mom would challenge my sister and I to collect things for every letter of the alphabet (A-Advil package, B-Bottle cap, C-Can, D-Doritos bag, E-Earplug, F-Flyer, G-Golf ball, and so on). We never found an item for every letter, but it was fun and kept us entertained on the walk. More importantly, it alerted me to the presence of litter in our world. Ever since then, I've been keenly aware of just how much litter is on the ground and in the water. Before I started SUP Garbage Man, I had volunteered for numerous clean up events and even personally adopted a section of road in Virginia as part of their Adopt-a-Highway program. My wife and I have had two different sections of road over the past 4 years.
Q: Most favorite place you have paddled?
A: Easy one, Florida Keys.  Having lived in South Florida until I was 8 or 9 and we moved to North Florida, my family spent a lot of time in the Keys.  Being back in the Keys is like being back home. So, when we paddled there for the first time, it was something I'll never forget.  We try to get back there at least once a year...unfortunately, we haven't been able to make it down there this year due to COVID-19. 

Q: Where would you love to paddle next?
A: Other than heading south to the Keys, I love paddling anywhere with amazing scenery or historical significance. I'd love to experience paddling in Alaska among the glaciers or across the aqueducts in Europe. But, I'll be happy paddling any place with my crates and pickers so that I can grab any foreign objects that don't belong. 

Thank you so much for your time and all you are doing for the waterways in (y)our area!
Chivalry is not dead!
Don Sup
Learn more about Sup Garbage Man Here :)